[padding_spacer space_count="10″]
We have a great group of people working and ready to serve you. Why don't you give us a call and see how we can help you out today? Our team is ready to help, from your initial free estimate to checking in on your completed job.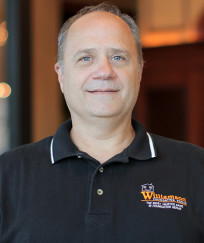 Roger Williamson
Founder & President
Last on the list is our founder and president, Roger Williamson. A graduate of Baylor university, Roger started Williamson Foundation Repair in June of 1985 as the fruition of an entrepreneurship class project. It didn't take him long to fall in love with the business. From there, Roger put all his effort into better understanding the various aspects of foundation problems, and attended the School of Civil Engineering at the University of Texas in Arlington. Roger lives in Rockwall with his wife and the youngest of his three children. The other two kids are all grown up, finishing their education, and making dad proud. Roger and his family are very active at Lakepointe Church. As a matter of fact, Roger is the director of Awanas TnT Jr. Boys. And oh, by the way, Roger has sung duets with Jessica Simpson!
Patricia Mejia
Vice President
Patricia Mejia is the Vice President of Williamson Foundation Repair. As an MBA and leadership consultant, Patricia specializes in strategic planning, organizational development, and talent coaching and management. She's currently pursuing her Doctorate in Organizational Leadership from Pepperdine University. Patricia serves as the Chairperson for the Rockwall County Helping Hands Community Circle, maintains a steady yoga practice, and is a Black Belt Recommended in Tae Kwon Do! Wow! Despite all of that, Patricia most enjoys spending time with her family and staying active and involved in her community.
Phil Miesner
Sr. Evaluations Specialist
Next up is Phil Miesner. Phil is our Senior Evaluations Specialist, which means he's the man to help you diagnose any problems you might have with your foundation. He and his wife, Cyndi, have four grown children, and he is a University of Tulsa graduate with 40 years of management and analytical experience. What a tremendous find for us! Phil is also a Sunday School teacher for Lakepointe Church. When he has some free time, Phil loves flying single engine Cessna and Piper airplanes. This man stays busy!
Selvyn DeLeon
Field Supervisor
Selvyn DeLeon is our Field Supervisor. He has been in the foundation repair business for 15 years. His goal is to make sure his customers are always satisfied. Selvyn is married with two beautiful children. When he isn't working or spending time with his family, he is out driving one of his motorcycles.
Now we come to Holly. As our office manager, Holly makes sure that the phones are answered, client records are kept safe and organized, and schedules are met by our crews. But Holly does more than just keep things running; she makes customers feel welcomed, appreciated, and heard. If there's one thing we can count on, it's hearing our customers tell us how much they love Holly!
Leigh McLaughlin
Marketing Director
Leigh McLaughlin is our Marketing Director. She is often helping behind the scenes with events, sponsorships and advertising. You may also get a survey from Leigh from time to time making sure you are satisfied with our work. Leigh lives in Rockwall with her husband and three children. Her children are incredibly active with FC Dallas Soccer and Tae-Kwon Do. Leigh earned her 1st Degree Black Belt in Tae-Kwon Do in 2014. She also is a trained vocalist and teaches voice lessons at the Rockwall School of Music and participates in Handel's Messiah Sing-Along during the Christmas season.